Today we talk about TECHNICAL Aspect of SEO meaning Technical SEO which is the foundation  of entire Search Engine Optimization(SEO).Ignoring the Technical Aspect of SEO is a big mistake for SEO Optimization. Before we talk about Technical aspect of SEO, once we are clear about the concept of SEO, which is the most important part of Digital marketing along with Pay-per-Click, Social Media Marketing, Content Marketing, Email Marketing, Mobile Marketing, Marketing Analytic and Affiliate Marketing .
What is SEO?
SEO stands for Search Engine Optimization. SEO strategy used to increase visibility of websites in search engine results, improved website organic traffic with help of e-commerce SEO, better brand awareness, and higher conversion Rates by following the Algorithms of Google and with help of effective Content. This can be achieved through optimizing content, building back-links and resolving the broken link, and improving site structure so that search engines can find and rank your website with ease. By taking these steps you will be able to improve your website's ranking on various search engines such as Google Search, Bing, Yahoo etc. Additionally, SEO can help you to build trust with your target audience as well as establish credibility for your business. All in all, SEO is an important part of digital marketing which should not be overlooked if you want to gain more exposure to the digital world and reach more people with your products/services.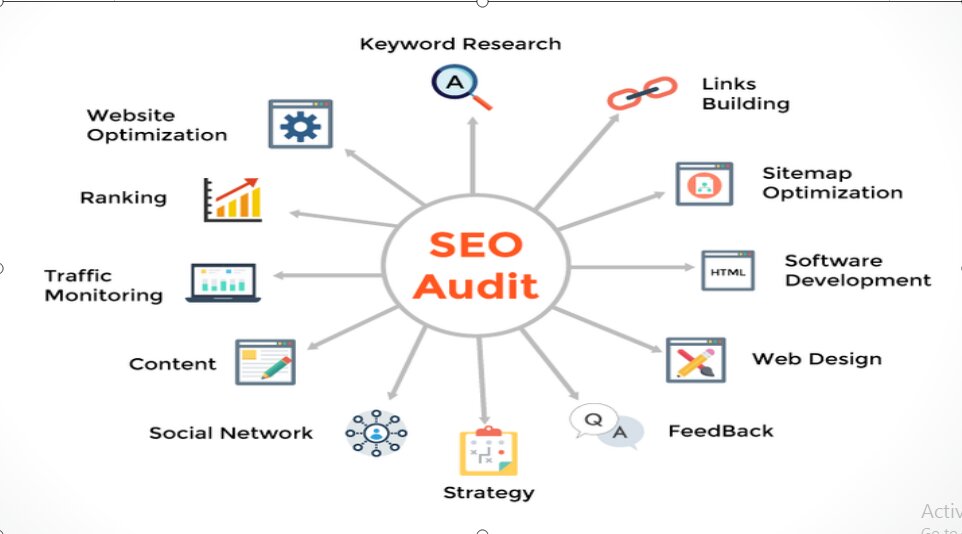 Having cleared up the approaches to search engine optimization(SEO), we can now go through what the different types of SEO are.
There are main 3 types of SEO Activity
On page Activity

Off page activity

Technical SEO
Local SEO is also type of SEO
TECHNICAL SEO
Technical SEO is the process of optimizing a website's Structure to make it easier for search engines to crawl and index it in order to improve its organic traffic and ranking on search engine result pages (SERPs) which is also an essential part of digital marketing course.Technical SEO focuses on the technical aspects of a website, such as the structure of site, coding, Loading page speed and site Speed, mobile friendly test , sitemap, malware and hacking, SSL certificate, duplicate content and Schema Markup etc.. which are all important factors in how a website is indexed by search engines. By utilizing a range of advanced techniques, technical SEO helps to ensure that a website meets the technical requirements of search engines for users also. For once we can rank our website without off page activity but we can not rank our website without Technical SEO. If a business does not focus on technical optimization, then its purpose in having an online presence is defeated. Technical SEO work has either a direct or indirect impact on search engine crawling, indexing and ultimately ranking.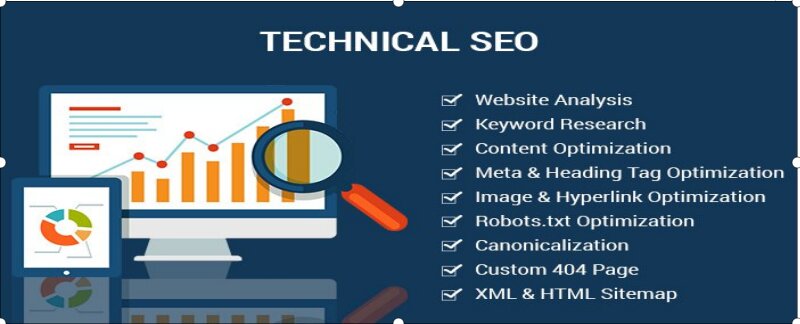 Why should we optimize our site technically?
Google search engines want to provide their users with the best possible results for their search queries. So Google's spider crawls and evaluates web pages on a multitude of factors. Some factors are based on the user's experience, like how fast a page loads. Other factors help search engine spiders to understand  what your pages are about. This is what structured data does. So, by improving technical aspects of your website you help search engines to crawl and understand your site. If you do this well, you might be rewarded with higher rankings and rectify all technical issues.
Additionally it's also true that if you make any serious technical mistakes on your website, then it can cost you. You can effectively give instructions to Google spiders by making use of the robots.txt file, a very useful tool that allows spiders to not crawl that particular page for any reason.
But it does not work if you only focus on the technical details of a website just to please search engines, you also have to work on the technical aspect in considering google spider and user both. User's search for a better experience also pleased google.
 What are the characteristics of Technical optimization:
A website should technically sound fast for users and easy to crawl for search engine spiders. Here, we will look into some important technical SEO Checklist optimization for websites.
speed optimization
Improve loading time of web page. because in this digital world people have no patience to wait for a slow loading page of a site, if it happens then they bounce from that site and it's a poor experience for the viewer which is not liked by google and it's harmful for our site to rank. Core Web Vitals are speed metrics which Google uses to measure user experience. 
Errors of dead links or dead pages
We've discussed that slow speed websites are harmful. What is more annoying for users than a slow page landing on a page that doesn't exist at all or it's an Orphan page. If a link leads to a non-existing page on your site, it's a 404 error page. There goes negative user experience. Moreover search engines don't like to find these error pages because it is a waste of the resources and crawl budget time of our site. 
Redirection of URL
Redirection of URL means when someone searches for a specific page but he goes on another page with relevant content. It happens because some time people find a 401 page which does not exist, to save a time of crawler and visitor redirection is available. There are 301 and 302 redirects which are permanently redirected or temporary redirected. With permanent redirection page authority is also transferred with that redirected page in such a percentages. 
Mobile friendly test
A mobile-friendly test ensures a website is also designed and optimized for mobile devices such as smartphones and tablets and for this test there are such tools. For this page speed insights report is also considered for user experience.  
Malware and hacking
This indicates the safe security aspect of our website. Making your website secure from virus attack gives  guarantee and confidence to users that their privacy is not compromised. Secure websites rank higher as Google understands the importance of privacy.  
Crawling friendly and XML sitemap
Google spiders crawl your website, we can guide them by the help of XML sitemap to give a clarification of our internal linking and about our whole site URL.XML Sitemap ultimate guide search engine boat to crawl our site easily with help of internal link and can index the pages. We can guide spider boats that certain pages are there, but we don't want to crawl them with the help of robots.txt. 
Canonical tag
Canonical tag is a tag for ignoring a duplicate of the pages on the site. It's an important part of technical SEO. By this tag we can indicate to the crawler that which page is original or which one is duplicate.
SSL certificate
SSL certificate indicates Secure sockets Layer certificate. Since 2014 SSL certificate has been important for Google because it creates an intercepted link between a web browser or server. In short SSL certificates indicate that your site is secured. SSL certificates are also affected by the ranking factor. Which website has https URL is considered as a secure version of the website and it indicates that the website has SSL certificate.This is an affected factor for the ranking of the website on SERP.
Here are such tools which help us to optimize technical aspect of website:
Tools which can use by SEO specialist for site audit:
1. SEMrush
SEMrush is a great tool for conducting competitor analysis to see what the other competitors in the market are doing effectively. It may provide you useful information that you can use your strategic plan for the best technical SEO results
2. Ahrefs
Ahrefs is one of your top options if you're looking for a link analyzing tool. The back-links leading to the website are clearly visible. Additionally, by seeing trends on another website, you might learn about their linking strategy and obtain new perspectives.
This tool can also be used to resolve problems with anchor text. 
3. Screaming Frog
Screaming Frog is one of the best website audit tools available for crawling and examining your website. Screaming Frog can help you find errors such as errors in URLs, missing page titles, missing meta keywords and meta descriptions, heavy images, errors in response codes, and errors in canonical. 
4. Google Search Console 
 Google Search Console is an important SEO tool for work and achievements from statistics and reports. Google Search Console offers important details that might help your current technical SEO approach become more effective. For an efficient technical SEO audit, Google Search console provides a huge amount of choices to choose from. It can be used to locate pages having 404 errors or broken links. Fixing these issues and directing people to the appropriate pages is necessary. In short Google Search Console is a bridge between website and crawler.
5. Bing webmaster tools
 Using Bing Webmaster Tools, you can keep a watch on the overall health of your website and learn how users are finding it. You may identify the search queries that are bringing in the most traffic, as well as the impressions and clicks related to some of those terms, using tools and reports.
6. Google Analytics
Google Analytics is a web analytic service that offers data and fundamental analytical capabilities for marketing and SEO performance optimization. Anyone with a Google account can use the service for free and it is a part of the Google Marketing Platform. 
FAQ's
What is technical SEO?
Technical SEO is the process of site audit to improve your website and server so that search engine spiders can more efficiently crawl and index your site (to help improve organic rankings).
Why is technical SEO important?
Technical SEO is important because it allows you to create websites that are simple for search engines to understand. Your chances of ranking in search results increase if a search engine can successfully crawl, index, and render your web pages.
Is technical SEO challenging?
Its Depends,Although the basics aren't especially hard but technical SEO can be complex and hard to understand. 
How much time does technical SEO need?
The short answer of technical SEO is 4-12 months but the longer answer has to do Work on  all those factors we discussed in technical SEO characteristics. If you target low-competition keywords, you can start to see results within 4-6 months 
Conclusion:
These really are the basics of the technical aspect of  SEO, any SEO specialist worth their salt will have these fundamentals working for any website they operate. Technical aspect is the most important process to guarantee that your web page has been optimized for search engines. To improve the website's ranking, it is necessary to explore, classify, portray, and optimize the website's infrastructure. To improve user experience, it is also important to ensure that your website loads quickly and effectively.
We strongly hope you enjoyed reading this blog on the technical Aspect of SEO and got a better idea about how to optimize your website technically and get benefit on ranking sites on search engines. What is really fascinating is how much deeper you can go into technical aspect of SEO